Video Ride Creator enables you to make our own video rides films for our simulators: https://www.xsimulator.net/community/marketplace/simtools-v2-video-ride-creator.180/

Here are some Highlights of the Video Ride Creator.
- Creating New Telemetry files for videos.
- Editing Telemetry files for a videos.
- Re-formatting an Existing Telemetry file for SimTools.
- Telemetry Offset
- Axis Scaling (by slider, by a known max value, or by percent)
- Axis Shifting
- Axis Smoothing
- Axis Flipping
- Axis Swapping
- Undo & Redo Buttons!! (Up to 100 moves - This one was challenging!)
- Manipulate Multiple 'Points' at the Same Time. (You can move 1 to 201 at a time)
- Live Telemetry Recordings (with sender example source code ready to post!)
- Telemetry Point Doubling
- Exact point Value edit
- Telemetry Importer
- Axis Zooming

Video Ride Creator use instructions: https://www.xsimulator.net/community/threads/simtools-v2-video-ride-creator.9897/#post-128160

1) Create a new telemetry file for a video.
a) Set the # of data points you want for your new telemetry file.
b) Set the delimiter you wish to use.
c) Load a video file and a new telemetry file will be created.
d) Edit as needed
e) Press write file when finished.

The telemetry file is always created in the same folder as the video file.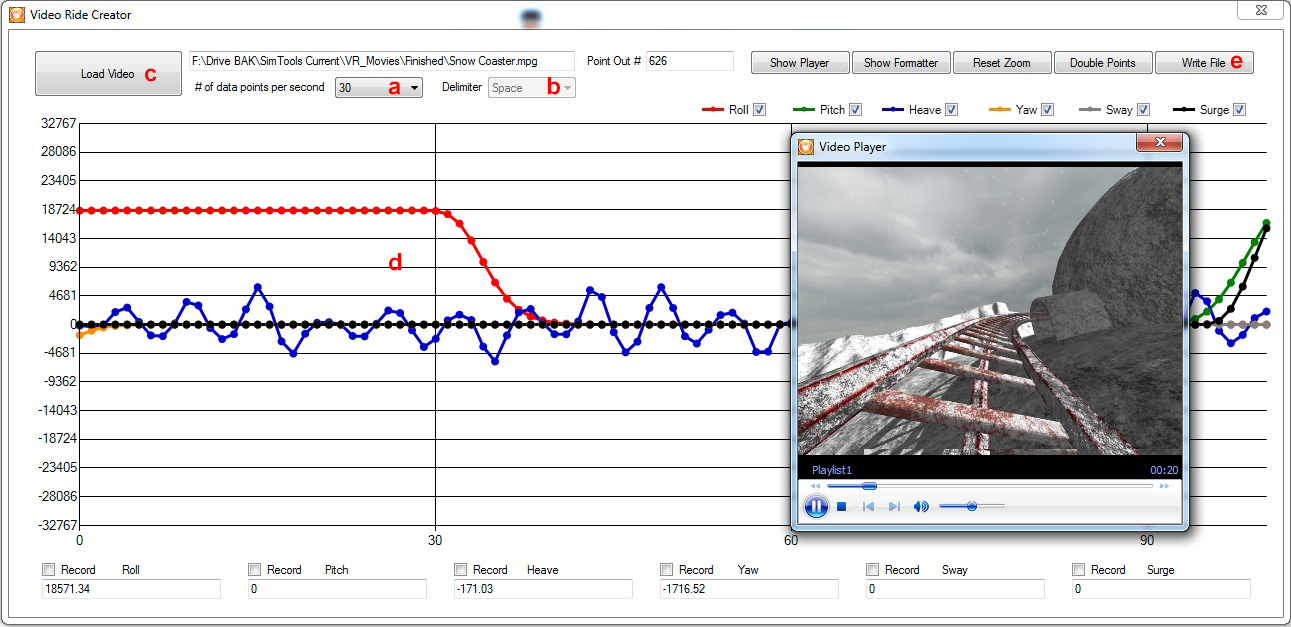 2) Reformat an existing telemetry file for SimTools.
a) Open the Formatter.
b) Set the delimiter type for the existing file.
c) Load the original telemetry file.
d) Set the DOF output order. (the # above the DOF, is the SimTools Order)
e) Click 'All Scale' to rescale the file to within SimTools standards.
f) Set the delimiter you wish to use in the new file.
g) Name the file.
h) Click "Save Telemetry File".