You will damage a potentiometer if it exceeds its stops. To avoid the problem @Alexey worked out how to remove the stop and hence potentially save a pot: http://www.xsimulator.net/community/threads/how-to-remove-the-end-stop-in-a-potentiometer.7198/

Another option to avoid breakage is to use highly accurate Hall Sensors: http://www.xsimulator.net/community/threads/hall-effect-potentiometer.4948/

Keep in mind to prevent applying (shear) forces onto the pot
The best way to achieve this, is to mount the pot's support onto the motor itself.
@dedas made a simple solution to connect the pot to the axle of the motor by using a piece of rubber hose (oil) with 2 clamps.
Its flexible and works fine.



@Pit advises the use of standard "elastic coupling" or "flexible coupler" with @Nick Moxley recommending these:

12mm


https://www.aliexpress.com/item/3pc.../1636922680.html?spm=2114.13010608.0.0.rghwGK



12.7mm
https://www.aliexpress.com/item/3pc...o-12-7mm-Stepper-Motor-Shaft/32342989653.html




@Erwan960:



@bsft : Also on the back of a motor shaft, I set up in this case a single turn 360 deg pot so if the lever goes over, the pot doesnt break.



or with gears to use the full range of potentiometer



@eaorobbie suggest (if enough room), a simple lever connection:



or this from this post:



@RacingMat : it's important to avoid applying forces on the potentiometer. The bracket has to be flexible! and mounted on the motor itself



@noorbeast :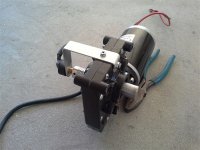 manually M8 tapped shaft

Note:
- with potentiometer, if you wish the best resolution, you have to gear!
- but with hall sensor (contactless potentiometer) like 6127V1A from BI TECH/TT ELECTRONICS,
you can choose 45° (90°, 180°) giving equivalent resolution but without gears
(Resolution: 0.088° for 360° travel, 0.011° for 45° travel )

_____________

You can solder connecting wires directly to the pot pins, with a video tutorial being found here:

Alternatively you can crimp a small slotted blade connector around the pot pin then solder, as @noorbeast explains here: http://www.xsimulator.net/community...ttach-to-these-pin-terminals.6892/#post-78217




____________________________________

linear to circular F.B. by @speedy ...
Concept :
converting the linear 2m. tape movement into a circular rotation that can be measured by the 10 turns FB pot ...
Components :
-2 m. spring measuring tape .
-10k Ohm 10 turns pot .
-Suitable dial knob for the pot axle attaching .
-Hot glue gun [epoxy resin is preferred] .
step 1- after taking apart the tape ... make a big hole of a bigger diameter than the knob on the "spring free" plastic side .


step 2- spare the plastic center hole for reattaching the "center spring screw support" back in place .


step 3- [ The tricky part ] cover the center with a little grease [ Vaseline ] ... Glue the knob centered on top of the rotating wheel " Note that the center screw is fixed to main stationary body and will not be glued with the knob " ...


step 4- Attach and Aline the metal tape start point to the actuator mechanism and calibrate the FB pot turns to the motion range correct length ...
Then tighten the FB axle to the knob side set screw ... then you'll have a linear to circular F.B. that can be used in any place
If you like going into corners in your actuator design use an old adhesive wheel support to corner the metal tape .



_________________________________