Download the Motion Simulation Software SimTools including
GameEngine and GameManager here:
Download SimTools

Buy Game Plugins
Buy SimTools License

For Vista, Windows 7, Windows 8, Windows 10 | Documentation
Screenshots: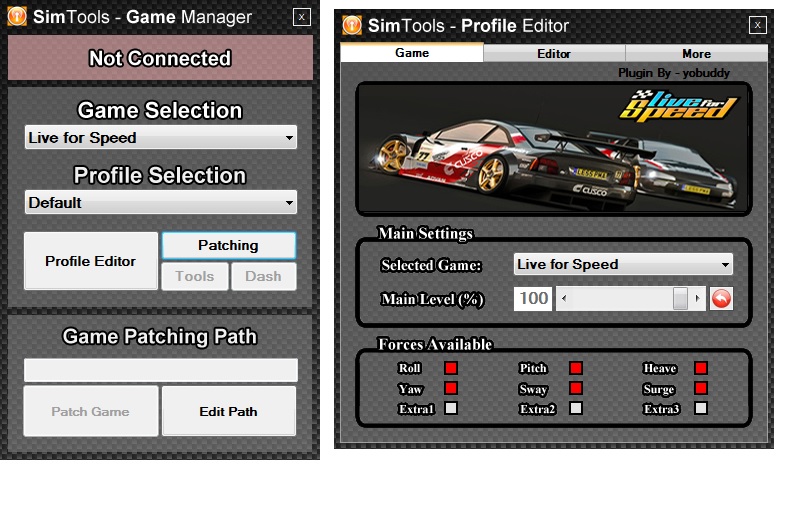 What is SimTools motion simulator software?
SimTools is a generic Motion Simulator Software able to control
multiple hardware interfaces like the Arduino, SimAxe, JRK, SCN5 actuators
(For testing you don´t need any hardware interface)
This software is the connection-link between the game and the motion simulator.
It extracts the game values like the force of speed, the direction of movement, shifting gear, RPM of the engine, the force of acceleration and a lot more. Then, all these values will be mixed into a data set that is used to control the motors of a motion simulator.
There are other software products like SimTools on the market, but SimTools owns some essential advantages:
Very easy to use
A great community that gives you help and support
95% of the most popular available race and flight games are supported by SimTools
New games are supported within a short time after coming to the market.
Sometimes we are publishing plugins for games that are not published, yet and only available for beta testers – Don´t ask how we accomplish that. That's the magic of our smart plugin creators;)
You are not forced to have your simulator online for any registration process
Extend SimTools! Get access to all plugins with a Download Package
SimTools is delivered with built-in support for the race game Live for Speed (LFS). Extend SimTools with a plugin of your choice so it supports new games with just a click.
Purchase one of the download plans below to get instant access to SimTools plugins!
Supporter
29 EUR / 1 Year
Limited download access for one year.

Valid 1 Year
Support: Community
Advertisments: Yes

Premium / Best Value
59 EUR Unlimited Time
This package is for you if you want to download the latest plugins without any time limitation.
Valid: Unlimited Time
Support: Community
Advertisments: No
Total Plugin Downloads: Unlimited
The Buy Now buttons use PayPal payment.
Want to pay via Credit Card? Click this link!

You need a separate valid SimTools License for using the plugins!
More than 80 Plugins available!
Clicking on a game banner leads you to the corresponding plugin
Car Racing Simulations
Assetto Corsa
Technical Preview and Early Access Forces:
Supported Forces: pitch, roll, yaw, surge, sway, heave acceleration.
BeamNG.drive
Our mission: To have realistic, accurate, destructible and malleable physics everywhere. To make anything possible.
Burnout Paradise
Release your inner driving demons!
Colin McRae Dirt 2
"DiRT 2 features a roster of contemporary off-road events, taking players to the most diverse and challenging real-world environments."
Codemasters Dirt3
"DiRT 3 boasts more cars, more locations, more routes and more events than any other game in the series…"
Codemasters Dirt Showdown
"Welcome to a new kind of DiRT."
Codemasters F1 2010
"Immerse yourself in the glamour, pressure, and exhilaration of the world's most exciting motorsport"
Codemasters F1 2011
"In F1 2011 players will be challenged to 'Be the driver, live the life, go compete'"
Codemasters F1 2012
"F1 2012 is set to deliver the most accessible and immersive FORMULA ONE game for fans of all abilities."
Codemasters F1 2013
"F1 2013 is the latest game in the award-winning FORMULA 1™ franchise from Codemasters."
Copa Petrobras de Marcas
This official game reproduces the thrill of competing for wheel-to-wheel with models from various automakers in some of the main Brazilian race tracks such as Interlagos, Curitiba and the newly reformed Goiânia.
DTM Racing Experience Demo
"The most authentic DTM racing experience ever is in development, bringing DTM racing to your PC."
FlatOut 2
Driving this reckless is no accident! But you might want to cause a few.
Game Stock Car
"Game Stock Car is the official game of the main Brazilian auto racing series."
GRID 2
"GRID 2 will challenge players to be fast, be first and be famous as they enter a stunning new world of competitive motorsport."
GRID Autosport
Build your pro racing career
GT Legends
"The golden age of motor sports has returned."
GTR
"100% RACE FEELING GUARANTEED!GTR – FIA GT Racing Game was the first SimBin game"
GTR 2 – FIA GT Racing Game
"THE MOST AUTHENTIC RACING SIMULATION EVER"
iRacing
"We are the world's premier motorsports racing simulation."
Live For Speed
"Live for Speed is a small development team dedicated to making the best online racing simulation."
NASCAR'14
It's your turn to immerse yourself in the full-throttle thrill of the world's most exciting motor sports racing series in NASCAR '14.
Need For Speed Series
Including
• Most Wanted (2005)
• Shift (2009)
• Shift 2: Unleashed (2011)
• Most Wanted (2012)
• Speed Rivals (2013)
Need For Speed: Hot Pursuit
"Great arcade racing game. A chapter from the successful Need for Speed series"
Nitro Stunt Racing
"The focus is to propose unprecedented driving and flying sensations to racing game amateurs."
Project CARS
"PROJECT CARS represents THE ULTIMATE DRIVER JOURNEY… "
Race '07
"Real Cars, Real Racing…"
Crowne Plaza
Race '07 Expansion Pack
The Formula RaceRoom Addon
Race '07 Expansion Pack
GT Power
Race '07 Expansion Pack
GTR Evolution
Race '07 Expansion Pack
RACE Injection
Race '07 Expansion Pack
RACE On
Race '07 Expansion Pack
Retro Pack
Race '07 Expansion Pack
Richard Burns Rally
"This game is considered by many gamers to be one of the most realistic and difficult racing simulators."
STCC – The Game
Race '07 Expansion Pack
STCC The Game 2
Race '07 Expansion Pack
WTCC 2010 Pack
Race '07 Expansion Pack
Race Driver GRID
"GRID™ is all about the race."
Raceroom Racing Experience
"RaceRoom Racing Experience is a Free2Race game that connects fans of racing around a game and motorsports portal."Our simulation for the official

Simtools Challenge Leaderboard

RaceRoom The Game 2
"Featuring the fastest formula racing car ever released by SimBin…"
rFactor
"rFactor remains one of the most widely used products available today."
rFactor 2
"RFACTOR 2 RACING SIMULATION"
Simraceway
"Blurring the Line Between Sim Racing and Reality"
The Crew
a revolutionary action-driving game. It takes you and your friends on a reckless ride inside a massive, open-world recreation of the United States
TrackMania
The Most Popular Online PC Racing Game
Volvo – The Game
"The fresh and exiting Volvo S60 Concept headlines the car line up and will be accompanied by several wells known Volvo race cars."
World Racing Series
"World Racing Series is a realistic car simulator, based on a scratch built physics engine that accurately simulates vehicle dynamics and setup options."
WRC 4: FIA World Rally Championship
WRC The Official Game is the official game of the 2014 FIA World Rally Championship, enabling you to choose your favorite crew and car from the 2014 official lineup.
X Motor Racing
"X-Motor Racing is an Indie racing simulator with accurate physics simulation.
X-Motor Racing offers a unique experience which hasn't similar experiences."
Truck Racing Simulations
Formula Truck 2013
"Developed to provide maximum realism"
Motor Bike Racing Simulations
GP Bikes
"Realistic motorcycle simulator, based on a scratch built physics engine that accurately simulates motorcycle dynamics and setup options."
Kart Racing Simulations
KartRacing Pro
"Kart Racing Pro is a realistic karting simulator."
Driving Simulations
Euro Truck Simulator 2
"Travel across Europe as king of the road, a trucker who delivers important cargo across impressive distances!"
OMSI – The Bus Simulator
"OMSI is a realistic omnibus simulator for home use."
OMSI2 – The Bus Simulator
"Off to the next round! Experience a new omnibus simulator with OMSI 2 and start discovering Spandau while driving the omnibus."
City Car Driving
a new car simulator, designed to help users feel the car driving in а big city or in a country in different conditions or just go for a joy ride.
Flight Simulations
Condor The Competition Soaring Simulator
"…always soaring above the competition
100% focus on high realism soaring environment"
Digital Combat Simulator
Mainly for airplanes but there are also modules for tanks, etc.
Falcon 4.0 BMS
Benchmark Sims' mod of the original Falcon 4 flight simulation
IL-2 Sturmovik: Cliffs of Dover
"IL-2 STURMOVIK™: Cliffs of Dover is the latest installment in the acclaimed IL-2 Sturmovik™ series from award-winning developer 1C"
IL-2 Sturmovik: Forgotten Battles
is focused on the air battles of the Eastern Front. It's named after the Soviet Ilyushin Il-2 ground-attack fighter.
Microsoft Flight Simulator 2004 (FS9)
Flight Simulator 2004 aka FS9
Microsoft Flight Simulator X
"Ever wonder what it's like to fly?"
Lockheed Martin's Prepar3D®
"Training meets reality with Lockheed Martin's Prepar3D® simulation software."
Silent Wings
"Silent Wings brings a new level of soaring realism to your PC."
X-Plane
"This is your next flight simulator.
The world's most advanced flight simulator."
Wings of Prey
"A nice WW2 air combat flight simulator"

Space Simulations

Elite: Dangerous
Take control of your own starship in a cut-throat galaxy. 400 Billion Star Systems. Infinite Freedom. Blaze Your Own Trail

Roller Coaster Simulations

No Limits Rollercoaster Simulation
"Thrill-Filled Roller Coaster Simulator
NoLimits is the ultimate roller coasters simulation game"
All trademarks, brands, and logos are copyright of their respective owners.
All logos are not authorized by, sponsored by, or associated with the trademark owner.
If you think a logo is used without permission please write us and we remove it.